When in the canyons, watch for a yellow blur!
Having crashed my previous bike (Cannondale F400), I stopped trusting it.
It arrived to Ohio already with several huge gashes. I'm not meaning scratches, but deep gashes. The kind that might make you a little cautious when jumping with it.
I continued to ride it in Utah, and it seemed safe enough, although shipping it back and forth can't have been good for it. After riding up the canyons 5 days a week about 30-40 miles a day, it stopped shifting correctly. I took it to Outdoors Unlimited (the bike shop at BYU) and they assured me they'd fixed it. The very next day when doing about 40 miles an hour down the Canyon the gears jammed, and I went flying off. Despite a bent rim, and my front fork no longer providing any travel, it was good enough for me to ride home.
I'd had enough. My parents told me "If you hadn't been riding so recklessly, you'd have been fine." my response of course was "It shouldn't matter how fast I'm going. My bike's gears shouldn't have jammed."
For obvious reasons, I didn't really feel safe riding it at 20 miles an hour, let alone 40.
I sold it on Craig's List, and decided to buy another one.
I wanted to get another Cannondale, and was looking to spend around $800.
September/October is usually a good time to buy a bike, as when the new models are introduced, the old ones (which still haven't been ridden) are discounted.
I looked at an '06 Cannondale F400 which was down to $630 from $780. The newer '07 model was a similar price (but you couldn't get a discount on it), only it had been upgraded with disc brakes. The shop "Timpanogos Cyclery" didn't seem to understand my reasoning. I told them the bike wasn't really discounted, as it was significantly inferior to the '07 model. They said it was reduced almost 20% and was as cheap as they could sell it. I tried to explain that if I were to purchase disc brakes after market, and put them on, it would end up being the same price as the '07 model, so it wasn't really discounted as I'd be paying the same for an '06 model that was similarly equipped as the stock '07 model)
They didn't understand.
I left.
My old roommate, Richard Bennett, told me to check out Bingham Cyclery in Provo.
They mostly only sell Specialized. I went, and they had a full suspension '06 Specialized FSRxc. It was a little more than I was wanting to spend, but after I test rode it, I decided spending a little more to get a full suspension might be worth it. It retails for $1100, but they gave it to me for $950. This might seem like a lot of money, but I can earn it in about a month, and this bike should last me a lot longer than that……hopefully….
Unfortunately, when you're buying last years model, you don't have much choice over colour, as they have limited stock. The only one available in my size was yellow.
Once again I'll be able to race down the canyon recklessly with confidence!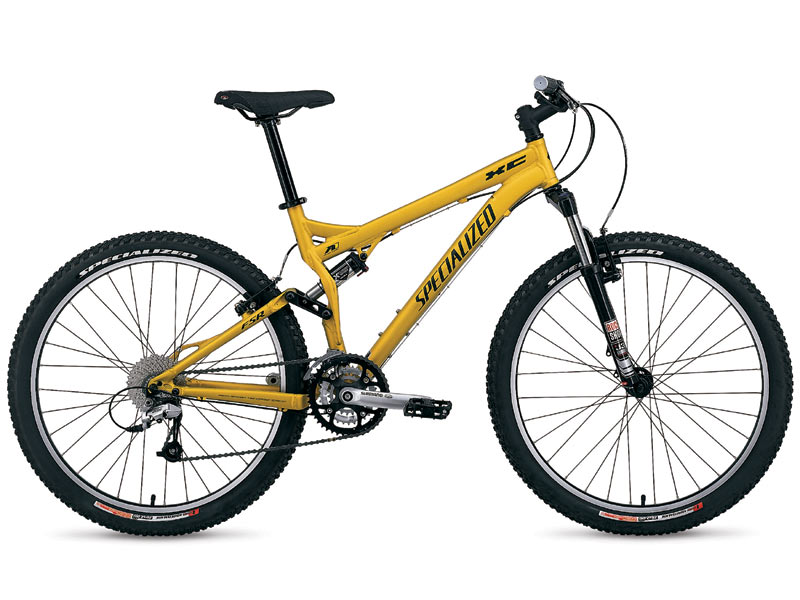 I'll try not to crash this one.