My current PC is 6 years old. It's surprising it is still working as well as it does. It's a testament to how well Intel was doing back then. Unfortunately, over the last 6 years, Intel's improvements have been very minor, and they've been stuck at 14nm for since their 5th generation Broadwell chips.
Current PC specs:
Haswell (4th gen) Intel i5 CPU
16Gb RAM (2x8GB)
Nvidia GTX 670 (carried over from a previous build), upgraded to an Nvidia GTX 1070 in 2016
500GB Samsung EVO SSD
4TB 7200rpm HDD
650W EVGA Platinum PSU
Arch Linux
My previous case was actually quite small, and I couldn't fit the GTX 1070 without disconnecting my front USB ports. I also needed to upgrade my PSU.
I've been wanting to upgrade my desktop for a while, and was eagerly awaiting AMD's zen3 release. I also finally wanted to switch from an Nvidia GPU to AMD. Nvidia actually works very well on Linux, but is closed source and doesn't support Wayland. XOrg is ancient, and it's frustrated me that I've been blocked from moving to Wayland because of my Nvidia GPU. I've been hearing for years that AMD's Linux driver support is now in great shape, so I was eager to try that out. Fortunately, hot on the heels of AMD's Ryzen CPU release was their Radeon GPU release. What good luck! While I was at it, I figured I'd also like to build a system using an AIO water cooler and NVME storage. Not building a computer in so long means there's tons of new tech to play with!
I run Arch Linux on my desktop, so I always have to be a little careful when selecting parts to ensure Linux driver support is good. This is less of a problem these days, but there are still occasional issues.
I wanted a fairly compact ATX case based on where it goes under my desk. I settled on a Fractal, who are known for their excellent cable management.
I originally ordered a AMD Ryzen 5900X CPU from bhphoto, but bhphoto took too many orders and gave me an ETA of March 2021. Terrible. Fortunately I managed to get a 5800X from Amazon. For the AIO, I wanted one with great cable management, as I've seen the mess of cables and fan hubs some people have. I didn't really want disco lights in my case either, so I settled on a Fractal Celcius+. The RGB is discrete and tasteful. I wanted the AMD Radeon RX 6800XT GPU, but it sold out immediately. Fortunately, I was able to beat the bots for the regular RX 6800.
New computer specs:
Fractal Meshify C (White with tempered glass side)
x570 MSI Tomahawk Motherboard
AMD Ryzen 7 5800X
AMD Radeon RX 6800
Super Flower Leadex Platinum SE 1000W PSU
Fractal Design Celsius+ S24 Dynamic AIO Water Cooler
64GB (2x32) DDR4 Crucial Ballistix 3600 MHz CL16
500GB SK Hynix Gold P31 NVMe SSD for boot
2TB XPG GAMMIX S50 Lite NVMe SSD for additional storage
3 additional Noctua case fans
I had 3 main concerns with my chosen setup on Linux:
The x570 MSI Tomahawk Motherboard doesn't support Ryzen 5000 out of the box, and requires a BIOS update. This is a chicken and egg problem, as you need a CPU to perform a BIOS update, forcing you to borrow an older, supported AMD CPU just to perform the update. Fortunately MSI now allows you to update the bios without a CPU, massively simplifying things.
The Motherboard uses a 2.5Gbit Realtek NIC. Intel NICs are superior and have have excellent upstream Linux driver support. Fortunately the necessary Realtek driver was upstreamed starting in linux 5.9 (commit).
The AMD Radeon RX 6800 is brand new, and requires linux 5.10 (not yet stable) and bleeding edge linux-firmware. Fortunately, Arch Linux has the necessary linux-firmware as of 2020-12-01 (just 1 day before I built my machine!). Booting into Gnome gave errors on linux 5.9, and required compiling and booting into linux 5.10rc6. Fortunately this is pretty easy to do on Arch Linux. Once 5.10 stable lands in Arch, I'll switch back to that.
I really liked the Fractal Case (and it was a bargain at $70. It's been a while since I built a computer, and this Fractal, while not being huge, had plenty of space, excellent cable management, and plenty of room for additional fans. The only issue I faced was installing the XPG GAMMIX S50 Lite NVMe drive. It has a thin built-in heatspreader. Due to that extra thickness I couldn't install MSI's heatsink. Oh well. Maybe I'll look into whether I can fix this with some spacers.
I planned on buying most of this on Black Friday, but ended up getting most of it 1-2 weeks before because the Motherboard, CPU and GPU are hard to find in stock, and wouldn't go on sale.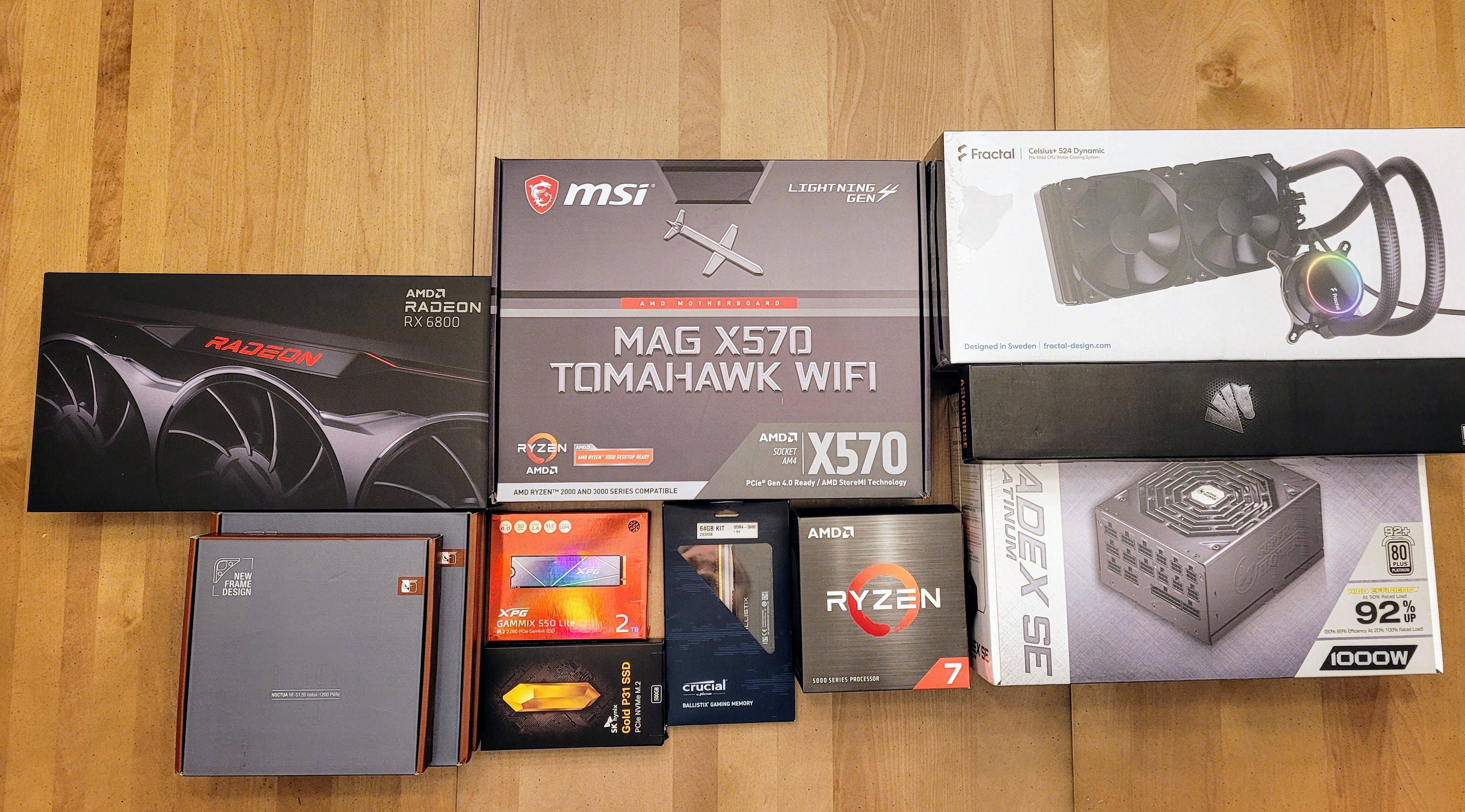 Here are the two Noctua NF-P14s redux-1500 PWM mounted on the front as intake fans. I also have a Noctua NF-S12B redux-1200 PWM on the back of the case as an exhaust.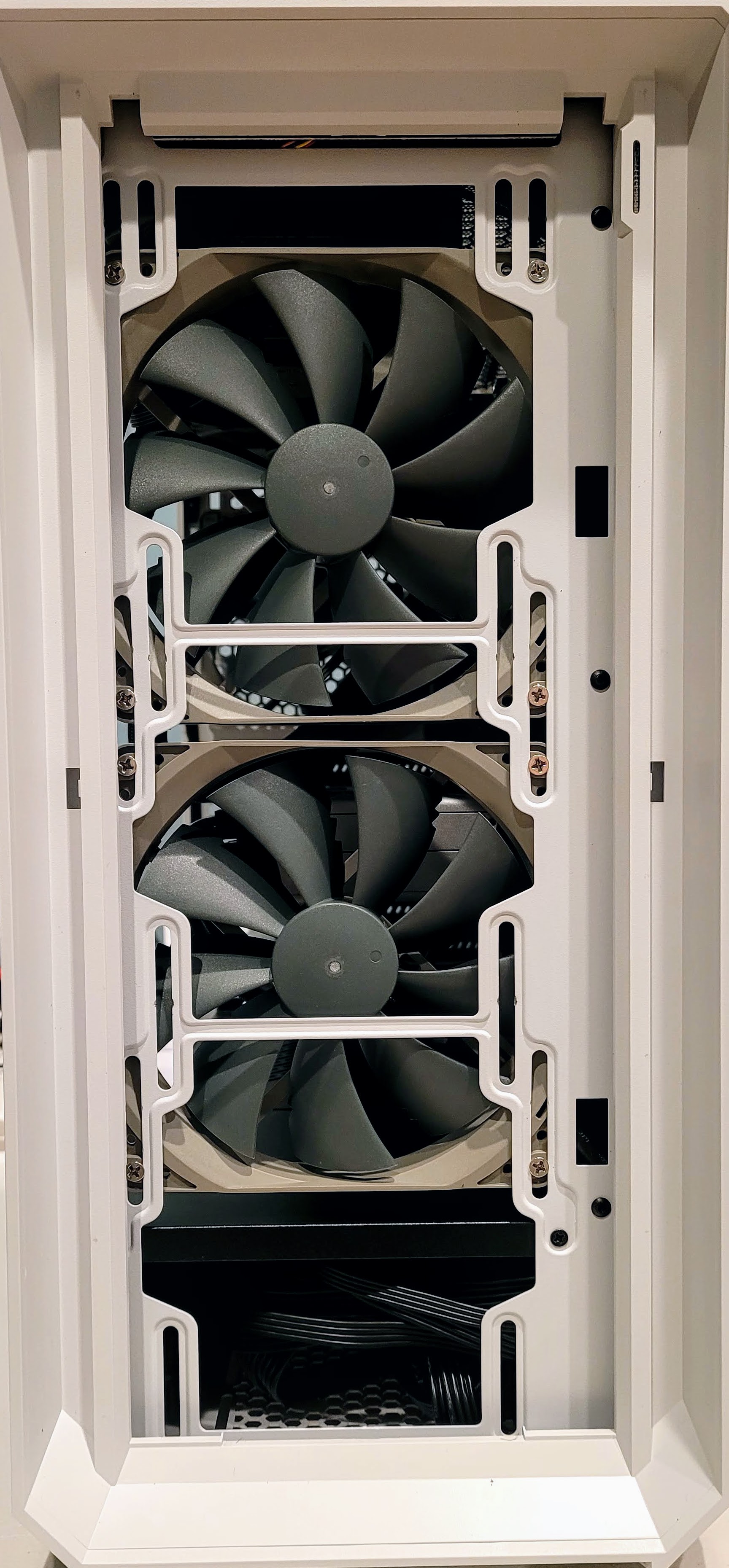 The Fractal case has an extra 1-2cm gap in the right panel to let you hide cables. Excellent.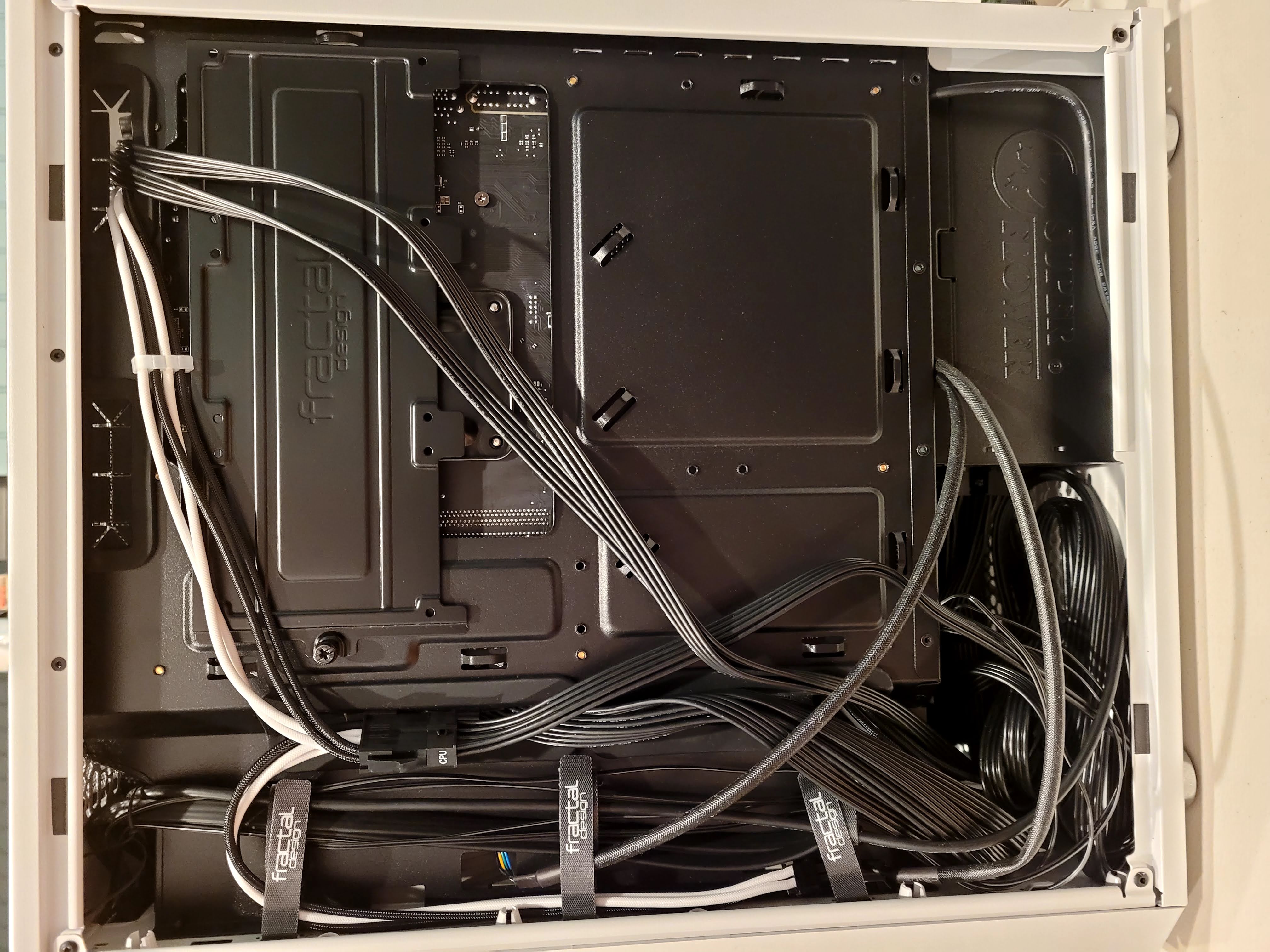 Here's the finished product. Cable management looks pretty decent. You can see I mounted my Fractal AIO at the top as an exhaust.